Passive House Development
Irish Design – German Efficiency


Status: Detailed Design/Construction
Situated in close proximity to a 19th century schoolhouse, chapel & parochial house this scheme is designed to respect the heritage of its context. The developer has set the brief to achieve passive house certification for both dwellings to set them apart in a competitive market. The passive house standard is the only internationally recognised, performance-based energy standard in construction; a rigorous voluntary standard for energy efficiency in a building, reducing its carbon footprint and running costs. It results in ultra low energy buildings that require little energy for space heating or cooling.
The Passivhaus Institut in Darmstadt, Germany is an independent research institute that has played an especially crucial role in the development of the Passive House concept and set the stringent requirements for achieving certification.
The designs will result in two dwellings with superior construction detailing, bright open plan spaces, comfort all year round, low energy bills and future proofed ahead of current energy regulations.
Click on an image below to enlarge.
Front Exterior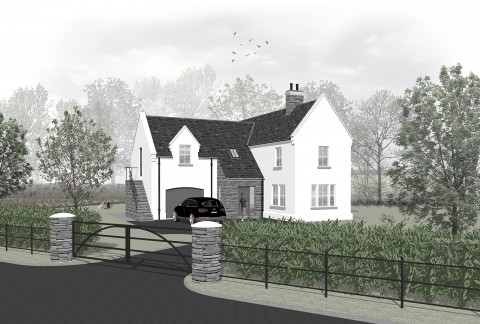 Back Exterior