Meeting 2020 standards today

Status: Construction Stage
Directive 2010/31/EU (EPBD recast) Article 9 requires "… that by 31 December 2020 all new buildings are nearly zero-energy buildings; and after 31 December 2018, new buildings occupied and owned by public authorities are nearly zero-energy buildings". Member States shall furthermore "draw up national plans for increasing the number of nearly zero-energy buildings" and "… develop policies and take measures… to stimulate the transformation of buildings that are refurbished into nearly zero-energy buildings".
Click on an image below to enlarge.
Front Exterior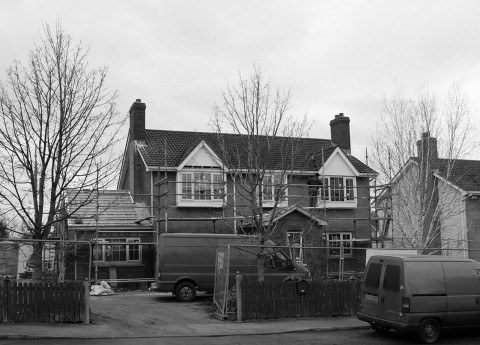 This project involves an extension & renovation of an existing dwelling constructed in 1996 with an upgrade of the insulation and airtightness of the structure whilst implementing a new heating, ventilation and renewable strategy.
Future proofing the existing dwelling to the highest standards of efficiency required bespoke insulation and air tightness solutions and meticulous implementation on site to achieve the desired result in a cost efficient manner.
The solution includes the provision of photo voltaic panels for on site generation of electricity to run an air source heat pump which provides the hot water demand of the building and meets the small heat demand distributing the heat via efficient low temperature radiators. The electricity generated on site will also be used for running appliances within the home & in the not to distant future charge the clients electric car. 90% of the clients water demand will be met by a newly installed rain water harvesting system. The desired result is a dwelling refurbished to be as self sufficient as possible in terms of water and energy use independent of water charges & rising energy costs.
Back Exterior